Sevoflurane
Sevoflurane, volatile liquid for inhalation, a nonflammable and nonexplosive liquid administered by vaporization, is a halogenated general inhalation anesthetic drug. It is fluoromethyl 2,2,2,-trifluoro-1(trifluoromethyl) ethyl ether.
Sevoflurane is a clear, colorless, liquid containing no additives. Sevoflurane is not corrosive to stainless steel, brass, aluminum, nickel-plated brass, chrome-plated brass or copper beryllium. Sevoflurane is nonpungent. It is miscible with ethanol, ether, chloroform, and benzene, and it is slightly soluble in water.
Sevoflurane is stable when stored under normal room lighting conditions according to instructions. No discernible degradation of sevoflurane occurs in the presence of strong acids or heat. When in contact with alkaline CO2 absorbents (e.g Baralyme® and to a lesser extent soda lime) within the anesthesia machine, sevoflurane can undergo degradation under certain conditions.
Degradation of sevoflurane is minimal, and degradants are either undetectable or present in non-toxic amounts when used as directed with fresh absorbents. Sevoflurane degradation and subsequent degradant formation are enhanced by increasing absorbent temperature, increased sevoflurane concentration, decreased fresh gas flow and desiccated CO2 absorbents (especially with potassium hydroxide containing absorbents e.g. Baralyme®).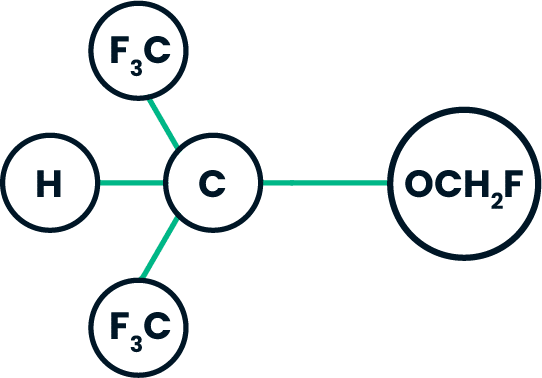 | | |
| --- | --- |
| Molecular Weight | 200.05 |
| Boiling Point at 760 mm Hg | 58.6°C |
| Specific Gravity 20°C | 1.520.1-1.525 g/mL |
| Vapor Pressure in mm Hg** | |
| 20°C | 157 |
| 25°C | 197 |
| 36°C | 317 |
| Appearance | Clear, colorless, stable liquid containing no additives or chemical stabilizers |
| Odor | Sevoflurane is nonpungent. |
**Equation for vapor pressure calculation:
Log10Pvap = A + B/T
Where: A=8.056 B=1664.58 T=°C + 273.16
It is miscible with ethanol, ether, chloroform and petroleum benzene, and it is slightly soluble in water. Sevoflurane is stable when stored under normal room lighting condition according to instructions.
During the maintenance of anesthesia, increasing the concentration of sevoflurane produces dose-dependent decreases in blood pressure. Due to sevoflurane's insolubility in blood, these hemodynamic changes may occur more rapidly than with other volatile anesthetics. Excessive decreases in blood pressure or respiratory depression may be related to depth of anesthesia and may be corrected by decreasing the inspired concentration of sevoflurane. Rare cases of seizures have been reported in association with sevoflurane use (see PRECAUTIONS-Pediatric Use and ADVERSE REACTIONS). The recovery from general anesthesia should be assessed carefully before a patient is discharged from the post-anesthesia care unit.
Drug Interactions: In clinical trials, no significant adverse reactions occurred with other drugs commonly used in the perioperative period, including: central nervous system depressants, autonomic drugs, skeletal muscle relaxants, anti-infective agents, hormones and synthetic substitutes, blood derivatives, and cardiovascular drugs.
Pregnancy Category B: Reproduction studies have been performed in rats and rabbits at doses up to 1 MAC (minimum alveolar concentration) without CO2 absorbents and have revealed no evidence of impaired fertility or harm to the fetus due to sevoflurane at 0.3 MAC, the highest nontoxic dose.
Nursing Mothers: The concentrations of sevoflurane in milk are probably of no clinical importance 24 hours after anesthesia. Because of rapid washout, sevoflurane concentrations in milk are predicted to be below those found with many other volatile anesthetics.
Malignant Hyperthermia: In susceptible individuals, potent inhalation anesthetic agents, including sevoflurane, may trigger a skeletal muscle hypermetabolic state leading to high oxygen demand and the clinical syndrome known as malignant hyperthermia.
Contraindications: Sevoflurane can cause malignant hyperthermia. It should not be used in patients with known sensitivity to sevoflurane or to other halogenated agents nor in patients with known or suspected susceptibility to malignant hyperthermia.
Warnings: Although data from controlled clinical studies at low flow rates are limited, findings from patient and animal studies suggest that there is a potential for renal injury which is presumed due to Compound A. Animal and human studies demonstrate that sevoflurane administered for more than 2 MAC·hours and at fresh gas flow rates of <2L/min may be associated with proteinuria and glycosuria.
Adverse Reactions: Adverse events are derived from controlled clinical trials conducted in the United States, Canada, and Europe. The reference drugs were isoflurane, enflurane, and propofol in adults and halothane in pediatric patients. The studies were conducted using a variety of premedications, other anesthetics, and surgical procedures of varying length. Most adverse events reported were mild and transient, and may reflect the surgical procedures, patient characteristics (including disease) and/or medications administered.
Overdosage: In the event of overdosage, or what may appear to be overdosage, the following action should be taken: discontinue administration of sevoflurane, maintain a patent airway, initiate assisted or controlled ventilation with oxygen, and maintain adequate cardiovascular function.
How Supplied: Sevoflurane is available in unit packages of 250 mL amber-colored glass bottles.
Storage Conditions: Store at 20°-25°C (68°-77°F). Excursions permitted to 15°-30°C (59°-86°F). See USP controlled room temperature.
Sevoflurane